Welcome to our site! O'Dell Labs has been raising top quality Labrador Retrievers since 1999!
Please contact me by text or phone at 314-795-6094. Or through email at odells5@centurytel.net The Contact Us page here is fine too! But in case you previously contacted me through Facebook, I may not be able to respond. I've made a new page, and have gone back to O'Dell Labs as our business page
AKC limited registration, dew claws removed, health tested parents, microchipped, age appropriate shots, several dewormings, Early Neurological Stimulation, puppy socialization program! See current pups page for availability and details.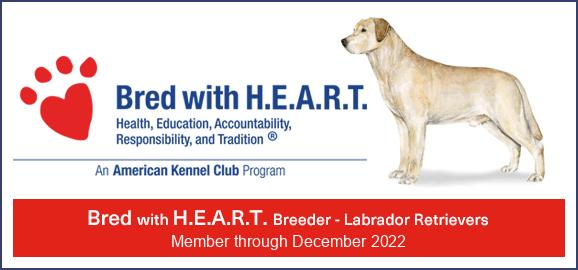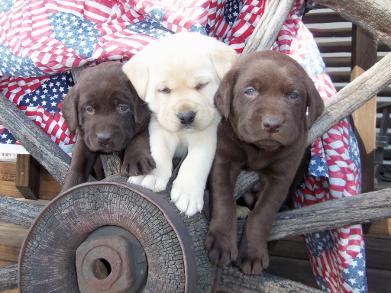 About Us
We started with a sweet pair of AKC Labs, both given to us by friends. Hunter was a beautiful English yellow male with a great personality, and many champions in his pedigree. Lady was a sweetheart, black with chocolate genes, who also had many champions in her extended pedigree. They had a couple of litters with all three colors, and we kept back the first chocolate female. Her name was O'Dell's Lady Grace, and she was my girl. So obedient and wanting to please me no matter what. After we lost Grace's parents, we found a chocolate male to breed to, and kept O'Dell's Graceful Lady Molly. We found a yellow male to add to our clan, who could be bred to both girls, and we were happy to have Winston in our family. He helped give us several nice litters, with all three colors with Grace, and black and chocolate pups with Molly. Winston was a wonderful guy but he didn't have the English style look we wanted in our stud dog, so we found him a great farm to go play on, and found a nice blocky chocolate boy to add to our chocolate family. We continued our pattern of keeping outstanding girls, and searching for quality males to add to our maternal line that was quickly forming the foundation for our breeding program. Keep our original line, keep our eyes open for quality pups or adults to add to our program, and provide top quality pups to families all over the area, and eventually, all over the country-that's our philosophy.


We are considered by the state of Missouri as a hobby/show breeder, and we are registered with the state as such. We are members of the Missouri Pet Breeders Association, and have started showing in conformation shows. We also just joined, by approval, the Guild for Labrador Improvement Breeders. We have OFA hip clearances on all of our breeding dogs, as well as many other OFA clearances. We have done testing for other genetic muscle and eye conditions, mostly through Embark. Our dogs are our pets, first and foremost, and are much-loved members of our family. Our goal is to produce Labradors that improve America's favorite breed, and we love meeting the families who adopt our babies. It's like having more and more extended family all over!


Testimonials
" She is perfect!!!!! I love her." -- Rebecca in Anchorage, Alaska, writing about Riley, a Maggie/Champ daughter that was purchased as an adult.
"Everything went great with Cinder since we left. She slept like a baby the whole way home and made it through the night with minimal whining and potty breaks. She has become very fond of a giant duck toy the size of her. She drags it with her everywhere. ." -- Shelby, writing about a Kizzy/Josiah pup
PO Box 52, Sullivan, MO | 314-795-6094
Proud member of the Guild of Labrador Improvement Breeders!
Black Lab puppies, Black Lab pups, Chocolate Lab puppies, chocolate Lab pups, Yellow Lab pups, yellow Lab puppies, responsible Lab breeder, Labs for sale, Missouri Labrador breeder