Here is our latest up-and-coming boy, Dino. Dino is chocolate, has OFA good hips, normal elbows and patellas. He lives in his guardian home nearby. He is a son of Sadie Grace and Jacob, so he was born here! He will be paired with Jett for sure for chocolate and black pups. Future litters likely with Loni, Sophie, and Winchester. Dino's genetic testing just came back. He is clear for all 160+ conditions tested by Embark. He does not carry yellow, but does carry dilute. Dino's Embark Panel results (right click on link to open in new window)
O'Dell's Elijah--2016 Dilute Black (charcoal) male, call name Elijah or Eli
Elijah is the perfect mix of English looks and American talent! And throw in the disposition that made Labs the most popular breed on the planet, and you have near perfection in a boy! Elijah is the son of Josiah and Kizzy. He has extensive hunt training, and an amazing off switch. He will be paired with Benelli and her daughters Finch and Remi(when they are old enough, and have their hips and elbows done), for dilute and standard color pups. His first litters are here, with Benelli, and they are stunning! Elijah is a PRA carrier, like Josiah so he will never be affected, but is clear by parentage for everything else. He has OFA good hips and normal elbows. He does not carry yellow, so none of his pups will be yellow. We went ahead and ran Eli's own Embark panel, which confirms what we knew: he carries PRA. His results: Elijah's Embark Panel (right click on link and open in new window)
AVAILABLE FOR SALE: Kennel reduction. This is an amazing opportunity for someone getting started who wants an awesome chocolate stud with health testing. He is an easy natural breeder. O'Dell's Daniel is handsome chocolate sire, from Logan's Dan and Logan's Sadie. He is clear by parentage for everything we've tested for. He's had some obedience training. His coat color is EebbDD, meaning he carries yellow, but not the dilute color gene. He does carry the splash gene for tan points (Ky). He will be paired with many of our young girls, and his first litters are here, and they are as awesome as we hoped!!! Daniel's OFA x-rays are done, and he has Good hips, normal elbows and patellas! He weighs 90 lbs. Daniel went to his first show and earned his championship title!! We are so proud to have our first champion boy!! We have two of his daughters in guardian homes, and one here with us, as well as his full sister. He is available to a breeding home: $3000 Daniel is clear by parentage for all the diseases known to be in Labradors, but we also ran his own testing through Embark, and of course he is clear there, too. Here are his results: Daniel's Embark panel (right click on the link to open in new window)
REFERENCE SIRES:
Dances with O'Dells--2009-2019 call name--Josiah
I went on a search for a chocolate with really good hips in his lineage and a blocky head. Definitely found both with this guy! He will be forever missed. His sire, a gorgeous charcoal, was the top Labrador tested through the PennHip method, at the time he was tested. Josiah sired blocky pups, with tons of intelligence and drive. He is OFA good hips, normal elbows, normal patellas, and EIC, CNM, DM, RD/OSD1, Nasal Hyperkeratosis, Hyperuricosuria, and Cystinuria clear. Josiah was a carrier of PRA, but all our girls are clear, so no pups will ever be affected by this eye disease. We now have kept four of Josiah's daughters, all who have been paired with Jacob already for outstanding chocolate or chocolate and black litters. Josiah has a daughter we sold that earned her AKC Junior Hunter title, another that we recently kept who has earned her UKC Started Hunting Retriever title, and many others who are fantastic duck dogs. Josiah left us in August 2019. His fun personality and amazing qualities will carry on through his son Elijah, and granddaughters Loni, Sophie, Winchester, and grandsons Dino and Shane.
Pictured at the top and below is O'Dell's Gold Nugget, call name Champ. Champ was with us for several years and gave us many wonderful babies in all three colors. Champ has gone to live at another breeder's home to improve her breeding program. We have three granddaughters--Sadie Grace, Calypso, and Coco--who are in our program, so his influence and wonderful qualities still belong to us. Champ has OFA good hips, normal elbows, and is EIC clear.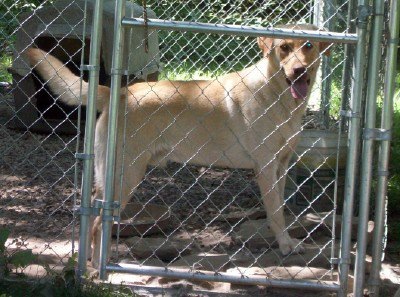 Now gone to his new home in MInnesota! AKC Liberty of Maker's Acres was added to increase some awesome full English lines to our group! He does not carry chocolate so will only throw black and yellow . He is an EIC carrier, so can never be paired with another carrier. He's huge, coming to us at 104 lbs. He's been on a diet, so he's lost a little bit, and as sweet as he can be. His first litters with Daisy, yellows and blacks have been awesome. OFA Good hips, Clear for PRA, DM, CNM, RD/OSD.Big blocky pups!!! We kept one of his most recent sons with Daisy, and we are thrilled to have Liberty's bloodlines to carry on!
This is Logan's Dan. He is yellow, born 2009, but throws chocolate and black, along with yellow, with Sadie.This gorgeous boy is the result of my constant looking and researching online, seeing what others are selling, making sure we are competitive, and on the lookout for good deals for our breeding program. I found this boy, a chocolate female, and 3 of their pups from a lady in southern MO who was getting out of breeding.He has several champions in his extended pedigree, and when you keep clicking on the far right in his pedigree on huntinglabpedigree.com you will eventually get to the original Labradors which began in Newfoundland in the 1880s. He has a very sweet nature, and is throwing outstanding pups. He is OFA good hips and EIC, CNM, DM, Nasal Hyperkeratosis, Hyperuricosuria, Cystinuria, Retinal dysplasia/Oculoskeletal dysplasia 1, and PRA clear. His coat color is eeBbDD. Dan has moved to Illinois to better another person's breeding program, but his influence stays with us through his gorgeous son, Daniel!
This is O'Dell's Jacob. He is a 2011 silver factor chocolate, that we owned until August 2017. We purchased him and his littermate sister, Kizzy. Their sire is a huge silver boy who came from West Virginia. Jacob was paired with Josiah's daughters, but now is going to help someone else improve their silver lines. We have a young boy, Dino who is in his guardian home nearby from Sadie Grace's litter with Jacob and we kept Peyton's daughter, Sophie, and our charcoal stud Elijah is out of Kizzy, as well in order to hold on to these lines. Jacob has OFA good hips, normal elbows, normal patellas, and is EIC, CNM, DM, Nasal Hyperkeratosis, Hyperuricosuria, Cystinuria, Retinal dysplasia/Oculoskeletal dysplasia 1, and PRA clear. Jacob weighs about 80 lbs. He has a beautiful huge head, but is leggy like the American style of Labrador.